The
core spun yarn
refers to a composite yarn that is combined with a core yarn and a sheath yarn; generally, the filament is used as the core yarn, and the staple fiber is the outer sheath fiber-sheath yarn.Through the combination of the outer fiber and the core yarn, the advantages of each can be brought into play, the shortcomings of both sides can be made up, and the structure and characteristics of the finished yarn can be optimized by taking advantage of strengths and avoiding weaknesses.
Classification of core spun yarns:
1 Classification by product use
Core spun yarn for sewing,
Core spun yarn for burnt-out cloth,
Stretch fabrics (including knitted fabrics, woven fabrics) core spun yarn,
Functional, high-performance fabric core spun yarn, etc.
Fancy core-spun yarn (such as hollow core-spun yarn, colored core-spun yarn, serofil core-spun yarn, slub core-spun yarn, etc.)
2 Classification by core yarn filament
Rigid core-spun yarn: polyester, acrylic, vinylon (including water-soluble vinylon), nylon, etc.
Elastic core-spun yarn: spandex, PTT fiber, PBT fiber, etc. Spandex is the most widely used.
3 Classification by sheath yarn fiber
Usually cotton, wool, silk, hemp (including ramie, flax, hemp, etc.), colored cotton and other natural fibers;
Viscose fiber, MODAL, TENCEL, soybean fiber, milk fiber, bamboo pulp fiber, polyester fiber, acrylic fiber and various colored chemical fibers can be used for the covering fiber of the core-spun yarn.
4 Classification by spinning equipment
Ring spinning, rotor spinning, friction spinning, air-jet spinning, etc. can be equipped with core-spun yarn spinning devices to produce various core-spun yarns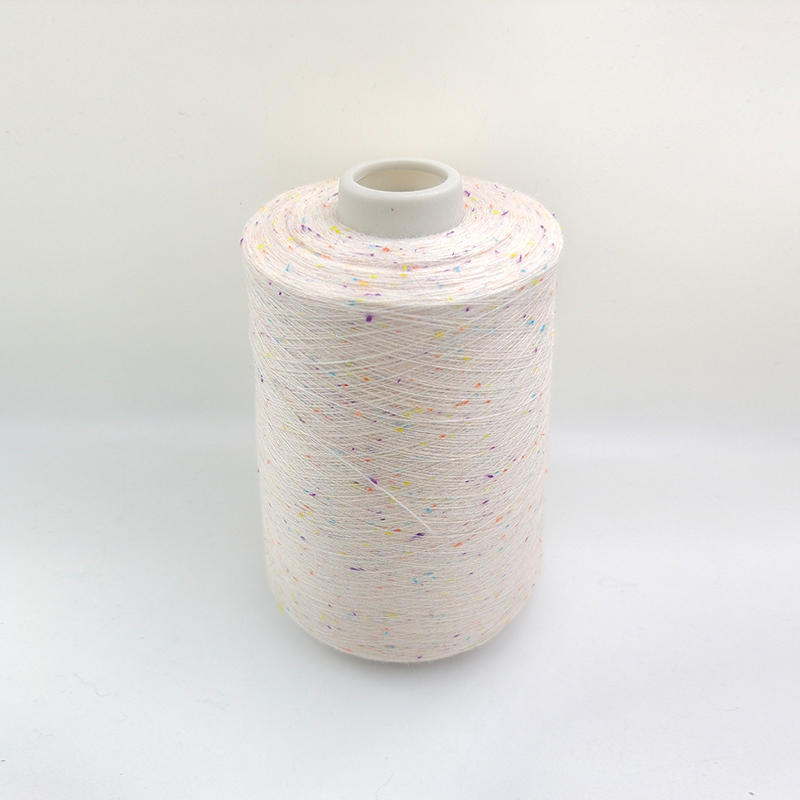 Product Name:
Color dot core spun yarn
28/2 48nm/2 Core spun yarn 44% Viscose 5% Neps 28% PBT 23% Nylon Blend Neps yarn
Origin:
Jiangsu China
Brand:
RHZ CORE SPUN YARN
Craft:
RING SPUN
Material:
44% Viscose 5% Neps 28% PBT 23% Nylon
Style:
For knitting ,circular knitting ,flatting knitting